プロフィール
33STRIKE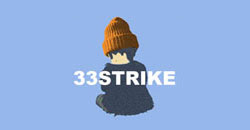 33STRIKE [ thirty three strike ]
1979.12.21生まれ
北海道稚内市出身
東京在住
website : http://33strike.com
2004年より独学で筆を持ち絵の制作活動開始。
国内外での数多くの個展やグループ展に出展する。
どのような素材、どのような大きさのものであっても、
下書きなしのフリーハンドで思いのまま筆やペンをいれるスタイルは
絵を描きはじめた頃から変わらない。
また、より多くの人々へ発信する為に人前でのライブペインティングを
積極的に披露している。
オリジナル商品においては、ポストカード、ステッカー、手刷りのTシャツ、
スエットパーカーなどの制作販売も行う。
2014年よりIllustrator、Photoshopを使用してのデジタル作品も手がける。
企業ロゴ、商品タグ、名刺などのデザイン、webサイトの制作もこなす。
アナログ・デジタル両方の視野を持ち幅広く活動中。
As a self-taught artist, I began my career officially in 2004.
Held wide acclaimed solo & group exhibitions domestic & internationally.
Regardless of materials and sizes, I capture the immediacy and truth of
a given moment through freehand style with no limitation.
In order to outreach more audiences, I frequently perform in live painting stages.
Original products; postcards, stickers, T-shirts, hooded sweatshirts are now on sale.
In 2014, made a jump to the field of digital art using Illustrator & Photoshop
to broaden and explore my skills. This new approach has widen my view and
expanded horizon of work. Now handles company logo, product tag,
business card, and website creation.